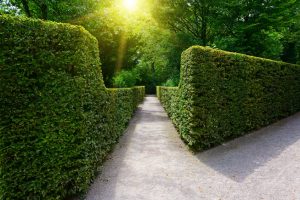 A clean row of hedges is one of the staple characteristics that comes to mind when you picture a quintessential suburban home. If you're a homeowner who looks at your property and can't quite put your finger on what you think is missing, hedges might be the exquisite missing piece you're searching for.
Not quite convinced of their value? Check out some of these ways you can benefit from adding hedges to your property!
1) Enhance your home exterior.
The most obvious advantage hedges offer homeowners is a beautiful addition to their landscape. Hedges add dimension and visual interest with their distinct height. Plus, you can shape and style them to compliment the architecture of your home and the other landscape features on your property.
2) Increase privacy on your property.
Another great benefit of hedges is the added privacy, security, and noise reduction they provide for you and your family. Enjoy your backyard without having to worry about anyone peeking in and use hedges to help define property lines and prevent issues with neighbors. They'll also serve as an additional barrier to deter intruders—both animal and human.
3) Hedges are more durable than fences.
If you're wondering why you would bother with hedges when you can just build a fence around your property and get the same visual and privacy benefits, you should take into account their durability.
Hedges last longer and maintain their quality better over time than a fence, not to mention they're a more cost-effective option. They'll better withstand weather, resist more wear and tear (as long as you take care of them), and are as low, if not lower, maintenance than a fence.
If you're interested in experiencing the value of having hedges on your property firsthand, call Forest Tree Service to get started! We offer tree and shrub planting, as well as ongoing pruning and maintenance services to keep your hedges in optimal shape.
Contact our team today so we can help you improve your Kingwood, Texas property!