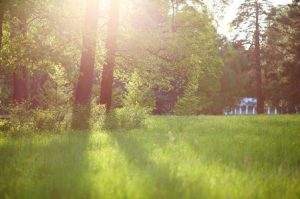 Unquestionably, trees play an important role in our communities.  Not only do they beautify neighborhoods and properties, but they also provide a litany of ancillary benefits.
Did you know that beautifully landscaped homes have higher property values thanks to maintained and thoughtful landscaping that includes mature trees? People will pay more money for homes with gorgeous yards, and trees help make yards look and feel their best. This principle also works with commercial centers. Research shows that people will spend more time and money at shopping centers flanked by trees. Having mature trees on a property shows that the space is well established– it puts in people's minds that the building(s) nearby have been there a while, which interestingly builds trust and raises the "comfort level" of the area. Trees are both comforting and reassuring. Indeed, by their very nature they help protect people from things such as harsh weather.
Environmentally, trees help deflect harsh winds. Their roots soak up rainfall. Their leaves provide welcome shade, especially under a hot summer sun. Birds build nests in trees. Animals use them for all sorts of things. Best of all, trees act as nature's filtering system, absorbing harmful toxins around them while improving the overall air quality nearby. As air purifiers, they ultimately help us breathe better!
For trees planted near homes and businesses, they help reduce heating and cooling costs since they offer some protection from brutal weather. They act as nice wind and noise "shields."
Finally, trees calm people down… seriously. Research shows that people who live near trees feel less aggressive than those who live in treeless areas. Trees actually help people de-stress. Is it magic? Not really, but plenty of people have said that there's something special and unique about trees, for sure.
Forest Tree Service of Kingwood, Texas, offers prompt, friendly and reliable service for things such as tree plantings, tree removals, and tree pruning. Serving Kingwood, Atascocita, Humble, Summerwood, Huffman and Porter, TX, contact Neil Leuck for a free estimate– call 281-359-7874.