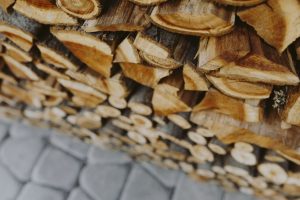 Winter may not be the ideal time to have your friends over for a backyard bonfire, but it is the perfect season to curl up in front of the fireplace in your living room with a cup of hot cocoa. There's something especially magical about relaxing next to a woodburning fireplace. It can be soothing to hear the crackling of the logs and watch the flames grow higher and higher, until they finally peter out as you head up to bed.
In order to get the most out of the firewood you use to fuel your fireplace in the winter, it's important that you know how to store it safely and properly. As you prepare your wood piles for the season ahead, keep these tips in mind for optimal storage!
Always store firewood outside.
It can be tempting to stack wood for your fireplace somewhere convenient, like in the basement or aesthetically arranged next to the hearth. But keeping firewood in the house is both a safety hazard and an invitation for pests like mice, spiders, termites, and other insects to make themselves at home. To reduce the risk of household fire and pest infestation, wood should be stored outside and away from the house.
Good airflow is essential.
Another reason your wood should be stored outside? Ventilation. Adequate air circulation is necessary to keep wood dry and prevent mold and decay. Dry wood lasts longer in storage and burns better when you use it. Stack wood loosely and off the ground (on concrete or a wood pallet) to prevent excess moisture buildup and promote airflow.
Keep firewood covered.
To protect firewood from pests, moisture, sun, and other earthly elements, you need to keep it covered in storage. Your easiest option is to invest in a firewood cover—just be sure to leave the front and back of your stack open to the air if it is not fully seasoned yet. Seasoned wood can be covered completely. A tarp can also be loosely placed over the pile to provide cover. Alternatively, you can keep your wood covered by storing it in a well-ventilated structure, such as an open barn or garage, firewood shed, or even under an overhang.
Searching for good-quality firewood in the Kingwood, TX area? Forest Tree Service can help you out! In addition to our expert tree care services, we also offer reliable firewood for purchase.
Give us a call at 281-381-4125 today to get all the firewood you need for winter!