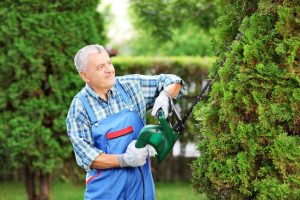 Regular trimming is one of the most crucial aspects of tree care. Trimming and pruning keep the trees on your property looking beautiful, growing healthy, and safe for you and your family to be around.
When and how often you perform tree maintenance is going to depend on the species you have, the climate in your area, their age, and your personal preferences. There are, however, a few telltale signs to watch for that signal it's time to make a call to your tree trimmer.
Overgrown Branches
The most obvious sign that your trees need a trim is if they begin to look out of control. Use your best judgement on this, but take special notice if branches start to grow into unsafe areas, such as over powerlines or too close to your house. If you observe overgrowth, it's important to act right away to prevent your trees from becoming dangerous.
Dead or Diseased Leaves, Limbs, or Trunk
Death and disease can spread quickly in a tree, which is why routine pruning is essential. If you notice symptoms of poor health, call a specialist to take care of it before it advances further and destroys the entire tree. Signs of disease in trees include:
Discolored or spotted leaves
Fungal growth
Cracked bark
Decaying wood
Prematurely falling leaves
Damaged or Misshapen Branches
Damaged tree branches are weak, due to their threatened structural integrity. This makes them more likely to decay and fall, becoming a hazard to your safety. Apparent damage isn't the only sign that a tree's branches are weak though. Limbs growing into unusual shapes, crossing, or bowing are usually unhealthy as well. Especially after a storm, it's imperative that you inspect your tree branches for damage regularly.
If you suspect your trees are in need of trimming, call the tree care specialists at Forest Tree Service. We'll come out to your property to conduct an in-depth assessment, and then provide you with a free estimate based on the needs we outline. Our team will do whatever it takes to make your home or business safe and keep your trees healthy.
Contact us today to learn more about our tree pruning and other specialties, and book the services you need!