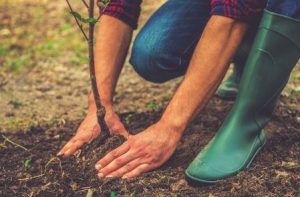 Forest Tree Service has planted many trees on many properties in and around Kingwood, Texas. What are some reasons to plant trees on your Houston-area property?
For starters, trees are great for the environment. When you have trees on your property, you're helping our planet. Seriously, trees help clean the air– they act as nature's natural filters. Did you know trees are able to absorb odors and pollutant gases? They absorb "bad" carbon dioxide while releasing "good" oxygen back into the air.
Next, trees can help keep your property cooler because they provide shade. Texas summers can be really hot (typically 95 degrees much of July in Kingwood), so strategically placed trees on your property can help cut your air conditioning bills. The shade provided by trees also slows water evaporation from lawns.
If you live in a hilly or sloped area, planting trees on your property can help hold soil in place as well as slow runoff during intense rains.
If you appreciate animals and wildlife, realize that trees provide food and shelter for them– especially birds, bees, possums and squirrels.
Should you need wood for something, trees can be harvested for both fuel and craft wood.
Have you ever been to a neighborhood lacking in trees? Research shows that barren hoods have more violence. Less "green" areas seem to put people on edge, making them more fearful.
There's something very reassuring and peaceful about having trees around– it's no wonder that those who want to increase their property value know that trees do just that. Trees are often smartly utilized to cover up unsightly views. They can be used to absorb dust, wind and sound, helping to shield a property from things such as noisy, busy streets.
Now that you know some reasons to plant trees on your property, did you know Houston has an area Urban Forestry Council? The council has an informative website about trees in this part of Texas, including a handy list of good trees to plant. After reading the intro, there are three "related links" to visit: street trees, small trees for the Houston area, and large trees for the Houston area. You can look these lists over and then consult with Forest Tree Service to determine which trees you'd like for your property. Call the office at 281-359-7874 to discuss potential tree plantings on your property.