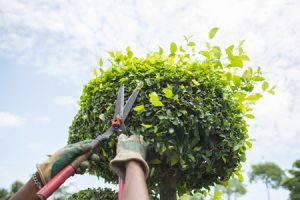 When you're a home or property owner, it's not unusual to want to take landscaping responsibilities into your own hands to save a few bucks. For larger, more dangerous tasks, however, the smarter choice is to call in a professional to make sure it's done safely and correctly.
In the case of tree trimming, the DIY approach may be tempting, but once you consider all the injuries you're at risk for, hiring an expert quickly starts to sound like the better option!
Cuts & Scrapes
Improper use of equipment and exposure to tree bark often leaves DIY tree trimmers with lacerations and skin scrapes. The more serious cuts usually come from mishandling power or hand tools, like saws and clippers, but splinters are another concern and can sometimes even lead to infection.
Falls
It's easy to lose your grip or footing when you're trying to work on a ladder, roof, or in a tree. Especially if you're not equipped with the proper ladder or safety harness, your chances of falling can get pretty high.
Being Struck
The most common accident in DIY tree trimming is being struck by falling branches or trees. These events can often lead to more serious injuries, such as broken bones and concussions, as a result of the impact.
Electrocution.
Tree trimming frequently requires you to work closely around powerlines. One accidental touch, cut with the clippers, or fall in the wrong direction can get you electrocuted in an instant. Electrocution can easily lead to serious injury, lifetime disability, or even death.
Bites & Stings
Different types of trees can be home to many different animals and insects. It is not uncommon to trigger an attack by disturbing their habitat as you work, especially if you're an inexperienced tree trimmer.
There's no reason to expose yourself to the hazards of DIY tree trimming when you can enlist a skilled and reliable professional to do it instead. Forest Tree Service has been trimming, pruning, removing, and maintaining trees since 1998.
Give us a call at 281-381-4125 for a safe and expert solution to your tree care needs!